Three teams from Utah Valley University made up the entire group of finalists who presented to the International Association of Registered Financial Consultants (IARFC®) National Financial Plan Competition in Cincinnati, Ohio. For the first time in the history of the competition, the three teams qualifying for the final came from the same university. UVU had already made up two-thirds of the six teams in the semifinals.
The competing students were sophomores and juniors enrolled in UVU's Personal Financial Planning (PFP) program, a bachelor's degree program that prepares students to become qualified fee-for-service finance professionals. meet the specific financial needs of individuals, families and businesses. The PFP program teaches a curriculum registered with the Certified Financial Planner (CFP®) Standards Council. Students not only have the opportunity to become CFP® certified and receive other industry credentials, but also participate in national competitions and network with industry professionals.
"From our perspective, having three teams from the same university is unprecedented," said Vicki Caplinger, IARFC's NFPC coordinator. Yahoo! Finance. "Congratulations to the Utah Valley entrants and thank you to Dr. Luke Dean for encouraging his students to enter our competition."
The National Financial Plan Competition is for undergraduate students enrolled in programs related to financial services. The competition is supported by IARFC members and funders, such as this year's sponsors: Money Concepts International, Envestnet MoneyGuide and Northstar Wealth Partners.
Under the tutelage of UVU Associate Professor Luke Dean, Ph.D., three teams of two — Brooke Gibson and Max Gledhill, Andrew Mathis and Sarah Chamberlain, and Sam Jensen and Jakob Wagner — presented their carefully considered financial recommendations for a fictional family. to the Board of Directors of the American Section of the IARFC, which judged the teams based on their performance and the financial adequacy of their plans.
Students were challenged to extract information from a case study about a fictional family's financial situation and produce a financial plan to help the family achieve and maintain financial stability. In this way, the competition provides students with hands-on, real-world experience by enabling them to analyze realistic financial situations and think critically to define and recommend courses of action.
Mathis and Chamberlain took first place in the final round, with Team Gledhill and Gibson and Team Jensen and Wagner as runners-up.
"The IARFC competition was a great opportunity to experience what a day at work looks like for a financial planner," said Mathis. "I appreciated the opportunity to work with professionals and learn various methods of financial planning."
Chamberlain shared a similar sentiment. "The IARFC competition was a really fun and challenging way to apply the concepts I learned in school," she said. "Participating got me excited for what my future holds as a financial planner!"
To learn more about the UVU PFP program, visit their website.
The second place
Max Gledhill and Brooke Gibson
Dr. Luke Dean, RFC, Associate Professor, UVU
Bradley K. Maples Sr., MRFC
Chairman of the American Section Board of Directors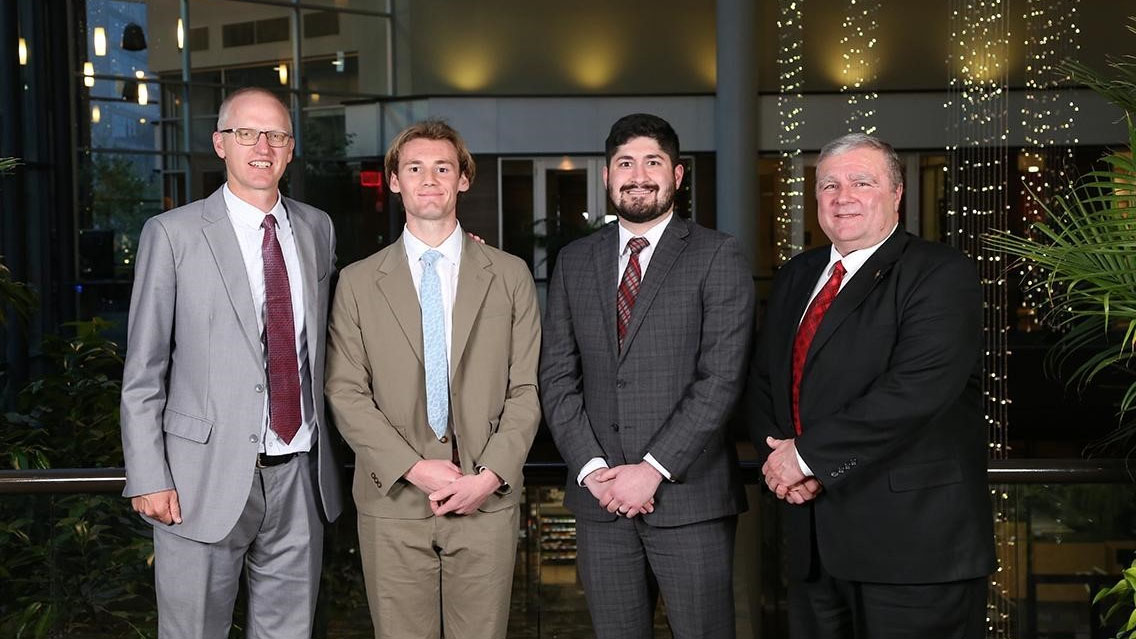 Third place
Sam Jensen and Jakob Wagner
Dr. Luke Dean, RFC – Associate Professor, UVU
Bradley K. Maples Sr., MRFC
Chairman of the American Section Board of Directors